This post is the last in a series of three on riding RAGBRAI, a weeklong bike ride across Iowa. Here's the first one, and here's the second one. Thanks for reading!
One of my favorite quotes is from Tony Robbins: "What's wrong is always available, and so is what's right."
We Choose What We Focus On: Positive vs. Negative
There is a lot to complain about on a 7-day camping bike ride. For instance, watch this: I'm going to name three common household objects in my field of view right now, and I bet there's a hardship associated with each one on RAGBRAI.
Chair. These are scarce on RAGBRAI. Get used to sitting on the ground.
Table. Your lap is the closest thing to a table you'll find, most of the time.
Shoes. Many riders wear cycling shoes on RAGBRAI, and walking around in cycling shoes all day kinda sucks. You have to waddle around like the Penguin from Batman.
If you look for the negative, it's not hard to find. But the positive is everywhere, too:
Natural beauty. Everywhere you look are rolling fields, wind farms in the distance, and quaint little towns.
Hospitality. These little towns roll out the red carpet for RAGBRAI, and you really feel welcome everywhere you go.
Human kindness. RAGBRAI riders are a community, and everyone helps each other out. Free beers are proffered from camping neighbor to camping neighbor. A rider with a flat tire will receive so many offers of help from passing riders that she might as well accept one, otherwise she'll be be so busy replying "No thanks, I got it" that she won't be able to focus on making the repair.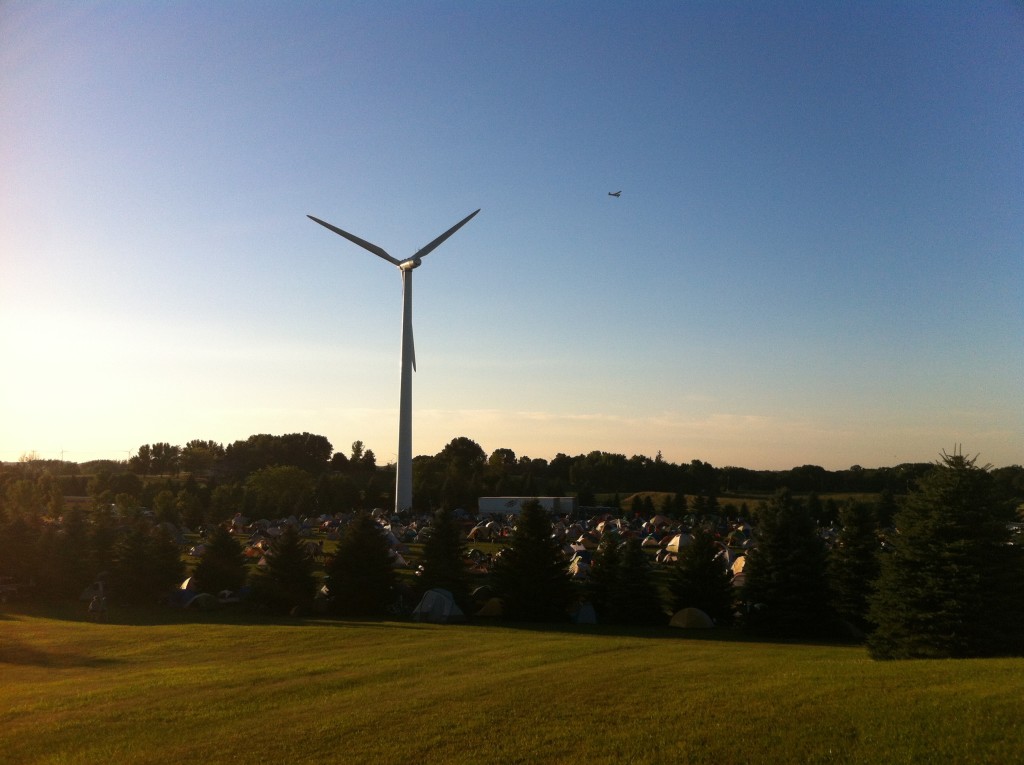 There's plenty to complain about in the music world, too.
Pop music has become vapid and meaningless.
Musicians are underpaid and under-appreciated.
Support for music in public schools is declining.
All true! But on the other hand:
It's easier than it ever has been to get start or join a musical group, thanks to the magic of the interwebs.
Mind-blowing new music is being composed all the time, and it's being performed by world class musicians for enthusiastic audiences.
There are more people listening to more music than at any other time in history. The iPod and smartphones have seen to that.
Happiness Is a Choice
Someone once said "Most people are about as happy as they make up their minds to be." It's just about that simple. We chase after more, but there are many people out there who have more (than you or I do) and aren't very happy. There are also people who are happier with far less.
We won't be happy when or if. It just doesn't work that way. Look for the good in your life and in the world, and remember that you get to choose your outlook! We really do get to choose to be happy.